Physical Event in Brisbane
Come down and join us on Sunday 11th October, 2020 for the Annual Walk for Awareness, Australia's biggest Mental Health Walk.
Click here to register for the Physical Event.
This year we are also offering a Virtual Walk for Awareness event so that you can join us on the day and tune in live to our Facebook Live Feed from wherever you are in Australia.
Pricing
Registration is $35 per adult entry. This includes 1 Free T-Shirt for you to wear on the day.
Kids under 10 years old is Free, but do not get a T-Shirt unless you add this on during registration.
Event Schedule
Please ensure that you arrive no earlier than 30 minutes before your wave starts and that you only attend your registered wave.
7.30am: Event kit collection opens
30 mins before each wave: Walk for Awareness Official event formalities
8.30am: First wave begins
9.15am: Second wave begins
10am: Third and final wave begins
12pm: Walk for Awareness officially ends
Location
Captain Burke Park, Kangaroo Point
Stay Social - #MAfwalk
We would love to see photos and videos of you and your team doing the Walk for Awareness in your local area, all for mental health and awareness.
Every time you post on social media - please tag #MAfwalk and we'll share to the official event social pages. If you would like to send videos or photos through to show on the official event livestream, please send via WhatsApp to the Mental Awareness phone: 0456398828 (outside of Australia: +61456398828).
Registration and Event Kits
This year you can register yourself and get your event kit sent to you, or you can collect it on the day. Your event kit includes your registration and your T-Shirt. For delivery of your T-Shirt, please ensure you complete your fundraising profile before Friday 2nd October.
Registration Close Date
Due to COVID-19, we are unable to accept any registrations on the day of the event and there will be no Registration area this year to avoid a build of up people. We strongly encourage you to register before the event and all registrations must be received no later than 5pm on Saturday 10th October, 2020.
Registration Process
The below is an outline of the registration process. To register, click the "Register" button on this website and select either the Physical or Virtual option.
Your information - We'll need some basic information from you such as your name, email, mobile number, T-Shirt size and address. You'll also need to accept our event terms and waiver.
Waves - Due to COVID-19, we have implemented event waves this year. Please select what "wave" time that you will be a part of.
Your Page - Here you will be asked to create your Fundraising page that you can share with your friends. As well as some short event questions.
Team - You have the option to Create a Team, Join a Team or simply sign up as an Individual on this step
Invite - Want to invite your friends? You can do that on this step and also pay for your friends if you like. You can also add your children if under 10 years old on this step also. Each of your friends will get their own email invitation to join you at the walk. They will need to create and register themselves.
Merchandise - Here you can add additional merchandise if you wish to purchase anything. You can skip this if you want to
Donation - You can add an additional donation if you wish as well or you can skip this as well.
Payment - Finally, your event registration plus any additional add-ons are totalled up and you can pay online via our secure checkout.
We look forward to having you join us on the day or via our online Live Feed.
Event FAQ's
Joining a Team
Search for your team that you want to join and click on the "Join this Team" button on the team page to join a team!
Creating a Team
You will first need to register yourself and during the registration process, you will have the option to create your team.
Swapping between Physical and Virtual Events
Contact us directly if you wish to swap between the Physical and Virtual event options
Waves
Remember which wave you registered for. If you are not sure - come down before 8.30am and speak to our registration team.
There are 3 waves 8.30am, 9.15am and 10am.
Please make sure you join your wave only.
Contact us if you need assistance with your Registration.
T-Shirts & Registering after 2nd October
If you register for the Physical Event, you can collect your shirt on the day.
If you register for the Virtual Event, you will receive your shirt after the event in the post if you have provided an address.
Dedication Wall
This year we are stepping it up and moving dedications online and it is now on our website here, to involve participants from all over Australia and even the world. You can even print out the dedication card from the website to show who you are walking for as you walk through the city, but we also encourage posting your dedication online. You will be able to post anonymously through the website if you wish.
Event Village
Enjoy the beautiful Captain Burke Park, grab a coffee and a bite to eat, and check out the stalls held by our partners.
It is very important that you maintain social distancing of 1.5 metres from other participants, staff, volunteers, and the general public. We also strongly encourage the use of Personal Protective Equipment (PPE) in the event village. Disposable PPE will be available in the Event Village, or you can purchase a reusable Walk For Awareness mask through the registration process or at the Event Village.
Event Day Travel
Public Transport
We recommend participants catch public transport and please ensure you plan ahead with Translink Journey Planner.
Parking
There will be limited parking at the venue for participants. It is recommended that participants catch public transport into the venue. Parking will be available at Eagle Street for a flat rate of $5 and you will be able to jump on a City Cat over to the Thornton St Ferry Terminal. Parking will need to be booked online before entering the parking lot.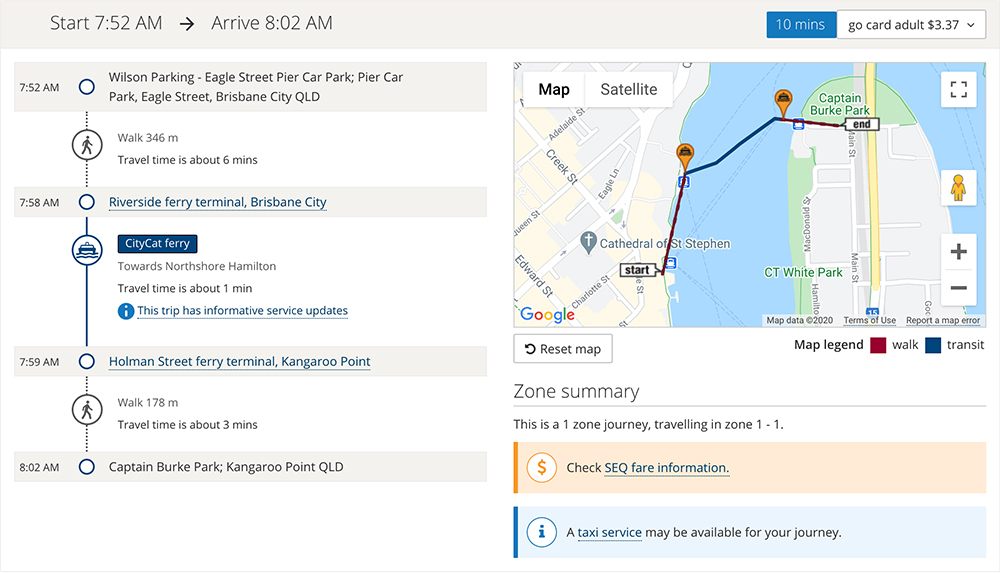 Water Stations
Due to safety reasons, we do encourage you to bring your own reusable water bottle filled with water from home. We will have a water station located at the halfway mark of the course in the Botanical Gardens which will only be stocked with single use water bottles. Please ensure that you dispose of the water bottles correctly. There will be "Containers for Change" bins at the water station and finish venue, where all proceeds will go towards the Walk for Awareness event.
To help us uphold COVID safe practices, please avoid crowding this area. We ask that you take a water bottle and keep walking to help the area flowing.
Toilets
Toilets will be located at the venue along with public toilets on the course at Riverlife, Botanical Gardens, City Reach Boardwalk, and Howard Smith Wharves. At the venue, we will provide handwashing stations and sanitization stations, and we ask that you please use them regularly. We will also have alcoholic wipes available at the entry to the portable toilets which we encourage everyone to take one to use to open the toilet door and clean before each use (extra measures to keep yourself safe).
We will have regular cleaners available to clean these high traffic areas.
Please ensure you practice proper hand hygiene at the facilities throughout the course. There will be handwashing stations and hand sanitizer located at stalls, toilets, and the water station.
Course Safety
We want the event to be fun and safe for everybody. Please ensure you follow the below safety procedures:
Bikes and scooters are not permitted on the course
Listen for announcements and follow directions from event officials
Only go to the start line when directed by officials
Please keep LEFT at all times unless passing
Please be mindful of bike riders and the public on the paths
If dogs are brought to the event, please ensure that they are always leashed and you keep a close eye on them
First aid will be located along the course and at the Venue
This year, there has been a slight change to the ending of the course, please ensure that you keep a close eye out on directional signage.
Ensure that you are always socially distanced on course from other participants and the general public.
Please help us by being conscious and respectful of the COVID safe rules and the community around you on the walk as the event represents the Mental Awareness Foundation, and we would like it to be a positive experience for all involved.
At the Finish
When you have finished, we encourage you to take a selfie at one of our many selfie stations, visit the support groups within the parklands, grab a coffee, and sausage sizzle. We do not encourage you to gather in large groups and once you have finished visiting the support services and stalls, we ask that you move on with the rest of your day.
It is very important that you maintain social distancing of 1.5 metres from other participants, staff, volunteers, and the general public at all times.
Stay social with MAf and connect
Mental Awareness Foundation Facebook
Mental Awareness Foundation YouTube
The Livestream will be available on-demand, on the Mental Awareness Foundation Facebook page, after the event so you can playback the special memories.
Donations
Do not forget to keep fundraising for the event. All proceeds will go towards the work on the frontline of Mental Health Issues and Suicide Prevention.
Fundraising does not stop until the end of October 2020 and we encourage you to share your own or your team's Fundraising page.